A few years ago I had someone contact me with a desperate plea. They had a disk which contained years of journal entries and letters to loved ones she could no longer access. She had used a Macintosh in the late 1980's and early 1990's to create all these files, but wanted to convert them all to PDF so she could make a book. She said she had tried everything, contacted a lot of people and her son had told her it was a lost cause. In talking with others at my institution, they knew I had a background in older Macintosh formats and so she contacted me. I made no promises, but offered to try.
The files she provided were indeed early Macintosh files. One obvious trait was the lack of an extension. One might think a lack of an extension was poor planning for Apple, but they choose a different method for the operating system to know the relationship between files and applications. They did this through the use of a Type/Creator code. If you were a software developer for the Macintosh you could register a four character "Creator" code, then for all the different files you used with your software you could register a "Type" code. This told the Macintosh operating system exactly which software created the file and the type so it could be opened properly. Unlike today where an extension is defaulted to one application even if it isn't the software which created the file.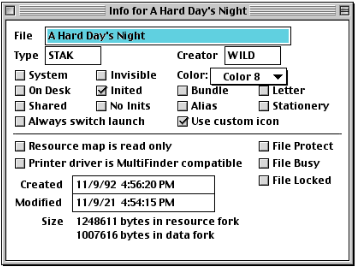 In some ways this was a superior identification method as there was many software titles which could all create the same file format, but this way the correct software would open the file and render it correctly.
Looking at the files provided to me, there was a few which at first seemed like they were damaged somehow, they were extremely small compared to the other files. About half the size. When I opened them in a hex editor this is what I saw.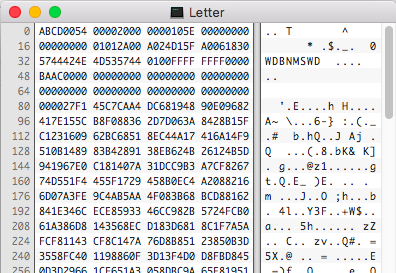 Usually document formats during this time would keep the text in plain ascii, but these files were different, they had binary data. In the header was the only plain text strings in the file, "WDBNMSWD". I had seen these codes before, a Microsoft Word Document! But they weren't….. What are they?
The head of the file has the hex values "ABCD0054", so I started searching the internet for some help. There were others having the same problem I was having. I finally came across a tool called the "Unarchiver". Running the command line version of the software "unar", suddenly I had a file twice the size and could be opened by Microsoft Word!
unar Letter 
Letter: DiskDoubler
"./Letter" already exists.
Successfully extracted to "./Letter-1".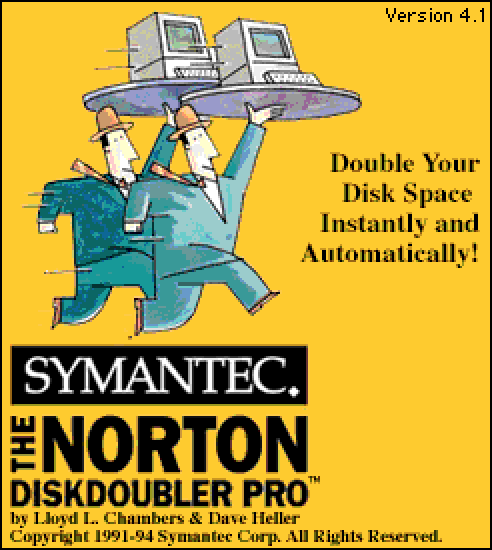 Remember back in the 1990's when storage was expensive? Instead of dropping another $20 for a 100MB ZIP Disk, you could use Symantec's DiskDoubler. The software would be installed on your Macintosh and then a window would come up showing you all the files on your drive. With one click you could compress a single file or a directory of files saving you tons of space. When you needed the file, just double click and the software would uncompress on the fly and then open the correct application to edit the file.
With a few clicks I was able to uncompress all the affected files and provide a PDF of all the letters and journals my new friend had tried so desperately for years to open. She was thrilled to say the least.
But why stop there? PRONOM needs to know about this format!
Once I had DiskDoubler installed I could make a few more samples, where is where I found there was a few different compression methods used by the software. They are labeled AD 1 & 2 and DD 1, 2 & 3. Making samples of each of the different types I was able to confirm the first 4 bytes of every file was the hex values "ABCD0054". I was able to submit the format to PRONOM and it was added and given the PUID fmt/1399.
One of the other features of DiskDoubler was an ability to create a Self Extracting Archive (SEA). An sea file could contain a compressed file but also contained the code to uncompress itself. This was mostly seen with the Stuffit software, but there were many other compression tools which could write to this format. The Stuffit formats have been added to PRONOM which include identification of an SEA created by stuffit, but the SEA created by DiskDoubler is different and needs to be added.