Ok, confession time.
There is only a couple moments in my tech history which had a profound effect on me, enough to sear the memory of the moment into my brain. When I was in college around 1997 I had a decent CD collection and I had learned how to copy those AIFF files off the disc and use them on my trusty PowerCenter Pro. These files were huge, at the time. I knew a regular size song would take up around 50MB on my hard drive. This was a lot of space back in 1997, but I could then mix them with other songs, something I did sometimes for friends I had on the dance team. I didn't have a CD burner at the time so I would transfer them to cassette tape. I know, but remember this was the 1990's when everything was changing and expensive.
One night I was exploring the world wide web and I happened across someone sharing a few songs. I assumed they were just clips as they were only 5MB in size, a tenth the size they should be. I downloaded the song, which of course still took a few minutes back in those days. When I played the song, I was dumbfounded, it was the whole song. I was completely confused. How could they take a 4+ minute song and compress it down to under 5MB? This was amazing.
I started grabbing every song I could find. Before long I had quite the collection. And before you judge me for downloading music from the web, this was a couple years before the advertisement we all remember reminding us that we wouldn't steal a car so why would we steal music.
The files I found on the internet were MP3 files, the same we are familiar with today. Back then creating MP3 files wasn't easy. MP3 was actually a licensed product so you had to get a little creative in order to make them. On my Macintosh PowerCenter Pro, there were even fewer options. I was already familiar with the sound editing application from Macromedia called SoundEdit 16, it was the tool I used to do all my editing. I found there was a plugin you could add which allowed export to a format called Shockwave Audio. This was meant for use in Macromedia's Director application to add sound to the growing Flash animation industry. Once I got the plugin and installed I couldn't stop making files and I made them as fast as I could. For a whole album this could take over an hour on my hardware, but it was worth it. Before long I had a large collection of popular music ready to play at a moments notice. My player of choice was MacAMP, a sibling of the popular WinAMP. I even borrowed some equipment from a friend who DJ'd on the weekends and DJ'd a college dance. I lugged my whole PowerCenter Pro tower and 17in trinitron monitor over to the school. It was so much fun and folks didn't understand when they asked to see my CD collection.
Enough about transgressions from my youth, lets talk about the Shockwave Audio format.
To create a SWA file you would first need SoundEdit 16 Version 2. Then the plugins to enable export. This would only run on PowerPC computers running Macintosh OS or Classic in Mac OS X. For this post I pulled out my trusty PowerBook G4 Titanium running MacOS 9 and MacOS X 10.2. Installed SoundEdit 16 and the plugins in the Xtras folder and we are good to go.
Before you export you need to set what bitrate you prefer for the final file, giving you the option of 8KBits up to 160KBits per second. The higher the bitrate the longer it took and made larger files.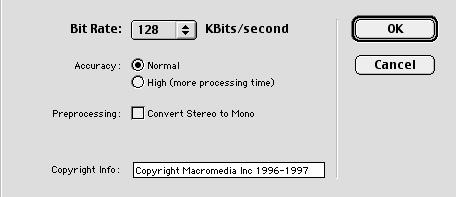 SoundEdit 16 had a native audio format and also frequently used the SoundDesigner II format to save the uncompressed files. On a Macintosh you had to be careful as these formats did not travel well to other systems on account of the resource forks associated with the data.
Because these SWA files were meant to be used in websites and other non-Mac systems, they did not have a resource fork, but had the Creator/Type codes, SwaT/SHCK. An extension wasn't necessary for use on your Macintosh, but it was best to use .swa.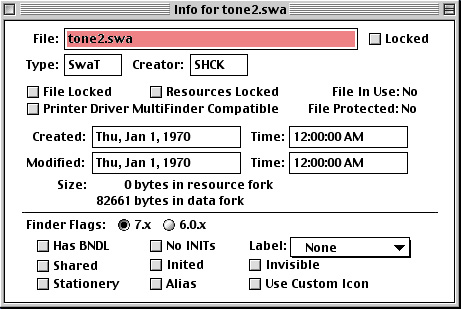 Here is what the data looks like for a SWA file.
Even though the SWA format uses MPEG compression, this is not a typical header you might see in a MP3. There was no ID3 tags at the time so not much in terms of metadata.
General
Complete name                            : tone2.swa
Format                                   : MPEG Audio
File size                                : 80.7 KiB
Duration                                 : 5 s 166 ms
Overall bit rate mode                    : Constant
Overall bit rate                         : 128 kb/s
FileExtension_Invalid                    : m1a mpa mpa1 mp1 m2a mpa2 mp2 mp3

Audio
Format                                   : MPEG Audio
Format version                           : Version 1
Format profile                           : Layer 3
Format settings                          : Joint stereo / MS Stereo
Duration                                 : 5 s 172 ms
Bit rate mode                            : Constant
Bit rate                                 : 128 kb/s
Channel(s)                               : 2 channels
Sampling rate                            : 44.1 kHz
Frame rate                               : 38.281 FPS (1152 SPF)
Compression mode                         : Lossy
Stream size                              : 80.7 KiB (100%)
ffprobe -i tone2.swa 
[mp3 @ 0x155704a60] Format mp3 detected only with low score of 25, misdetection possible!
[mp3 @ 0x155704a60] Skipping 324 bytes of junk at 0.
[mp3 @ 0x155704a60] Estimating duration from bitrate, this may be inaccurate
Input #0, mp3, from 'tone2.swa':
  Duration: 00:00:05.15, start: 0.000000, bitrate: 128 kb/s
  Stream #0:0: Audio: mp3, 44100 Hz, stereo, fltp, 128 kb/s
There are a few consistencies among all my files. They all begin with the hex values "00000140000000030000" for the first 10 bytes and all of them seem to have the string "MACRZ" at offset 36. I haven't been able to find a open specification for this file format, so we will have to go with what we can find in the samples. According to ffprobe from above, there is 324 bytes of a header before the first MP3 frame starts.
MPEG signatures are difficult, there are no headers, just a sequence of frames. This is why there are often so many identification conflicts with the MP3 format. These SWA files indeed identify as MP3 files, but with a mismatch extension.
filename : 'tone2.swa'
filesize : 82661
modified : 1970-01-01T00:00:00-07:00
errors   : 
matches  :
  - ns      : 'pronom'
    id      : 'fmt/134'
    format  : 'MPEG 1/2 Audio Layer 3'
    version : 
    mime    : 'audio/mpeg'
    class   : 'Audio'
    basis   : 'byte match at 0, 4088 (signature 5/9)'
    warning : 'extension mismatch'

If we wanted to distinguish an SWA from an MP3 we would need to create a new signature and give it priority over the MP3 signature. There is enough of a header this would be possible and easier, but since they are, in reality, just MP3 files does it matter? Trying to play a SWA on a modern computer is only possible if you change the extension to MP3.
If you want to take a look at some samples you can grab a couple I made on my GitHub page or check out some commercially made files for an awesome Star Trek Starship Creator game.