Many years ago I dabbled in a little Graphic Design. Working for a commercial printer in the Pre-Press area, I was very familiar with all things graphics, but never had a great talent for design, especially drawing. I often needed the random clip art for a design I was working on, so I purchased the Hemera, The Big Box of Art, probably from my local CompUSA if that dates me.
The cool thing about clip art from Hemera is it was not your usual JPG or TIFF format, it was in a special Photo-Object format. This format included the raster image, but also included a mask or alpha channel for the main object. They marketed this format as an alternative to the sometimes larger formats of the day. GIF files didn't have the color depth and PNG was new enough, Hemera was probably hoping this format would be the next greatest thing to happen to clip art.
A Hemera Photo-Object has the extension HPI. Lets take a closer look at a file and see what is under the hood. I pulled this file from Disc 1 on Archive.org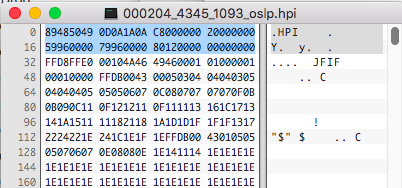 The HPI file has a unique header which should make identification really easy. But what do we see starting at offset 32? A JFIF! Just after a 32 byte header the file has a standard JPG file hidden inside. Now a standard JPG file does not have the ability to support an alpha channel so there must be something else they have within to mask this file. Lets look for the EOF file marker for the JPG format.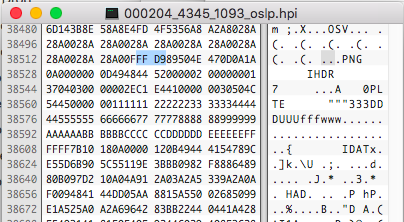 Well, well, well. It appears the JPG file is then followed by a standard PNG! Sneaky. The entire HPI file is a 32 byte HPI header, a JPG, followed by a PNG. One could easily carve out each of the formats and save as separate files if needed. There is a script you can use to do this for you, written by Ed Halley. The original Hemera software won't run on modern systems.
Hemera had a good run for about 10 years before selling off their assets in 2004 to another stock image company. At one point Hemera even purchased the rights to all of Corel's Premium photo library which I covered in my article about the Kodak PhotoCD format.